Login
Log in if you have an account
Dont have an account? Register
"THE SPRING 2020 STYLE REPORT: 15 TRENDS TO TRY THIS SEASON" FROM THE SCOUT GUIDE
06 Mar 2020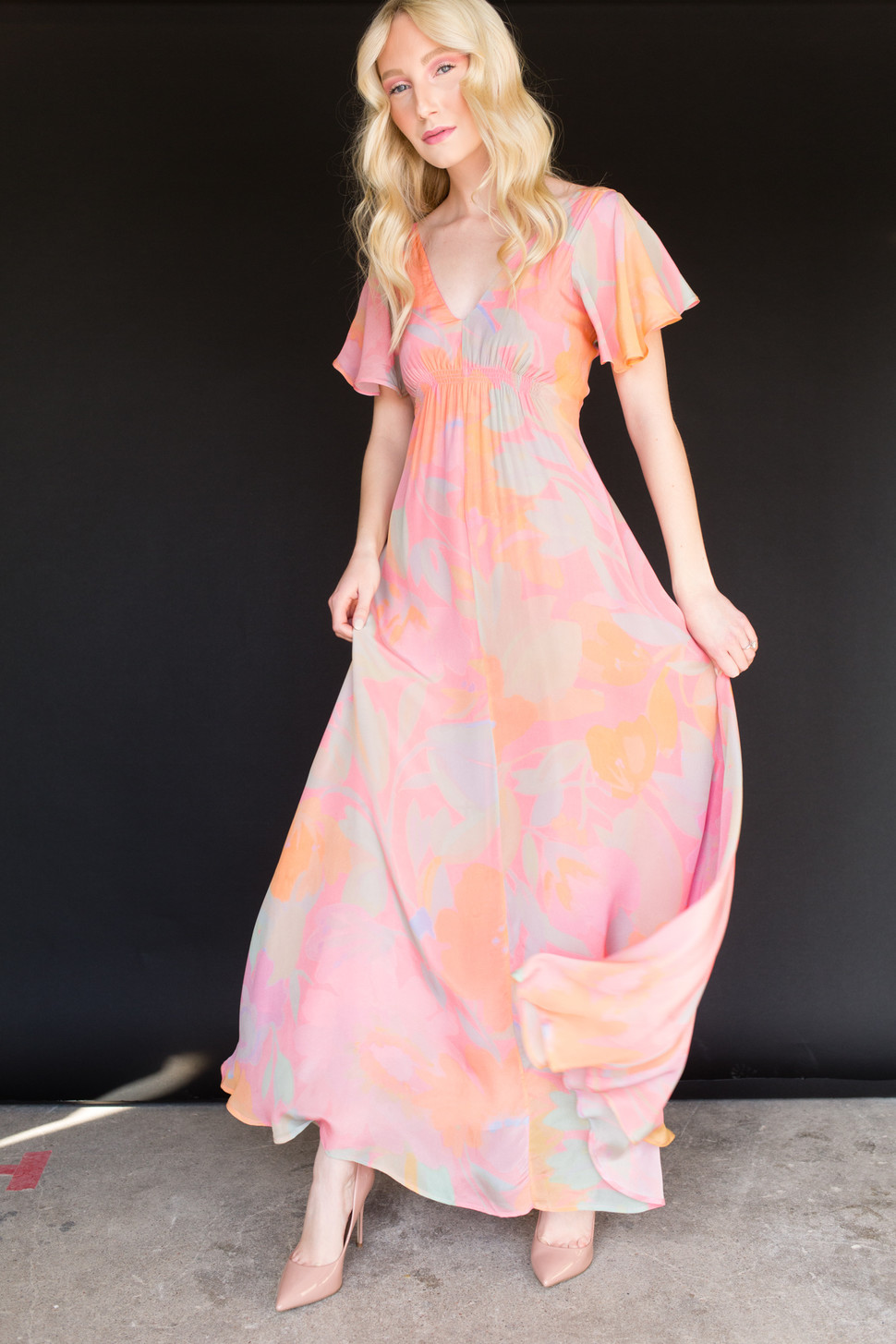 With the end of winter on the horizon, it's time to assess our spring wardrobes in earnest. As we prepare to invest in pieces that will have us looking chic and current, we turned to three style pros to find out which trends we'll be seeing everywhere in the upcoming season—and how to incorporate them into our closets and everyday looks. From neon accents to shoulder-accentuating tops, here are 15 trends to embrace in spring 2020.
Gain a new perspective on pearls. "2020 pearls are not the sweet strands from days of yore," says Nerissa von Helpenstill, store director at Tootsies in Dallas, Texas. In fact, according to her, pearls are replacing studs at the cool girl accessory du jour. To take them from luncheon-ready to evening-out chic, she suggests layering them with stacks of chains for a slightly edgier look. Get the look: Wolf Circus Pearl Swirl Studs.
Suit up. Long a menswear staple, the suit is very much a part of a woman's wardrobe this season. Sarah Alston Trent, marketing director at Raleigh, North Carolina's Vermillion observes that sleek and stylish suits are back and better than ever with long lines and elevated, femme patterns. As we transition into the summer months, be on the lookout for short suits—in both skirts and short styles. Get the look: Veronica Beard Miller Dickey Jacket + Roman Skirt.
Get garden party-ready. If it's spring, it's a pretty sure bet you're going to see florals, and this year is no different. According to Trent, the flirty trend is apparent in everything from boho-chic dresses to structured blazers. Get the look: Hofmann Gabriella Shirtdress.
Hofmann Copenhagen Annie Blouse + Elisea Pants
Embrace a monochromatic approach. One of the most proven methods to make everything you already own look pulled-together and fresh is to play with colors in new ways. von Helpenstill of Tootsies and Natalie Navis, owner and buyer of The Fold in Omaha, Nebraska, both agree that head-to-toe color equals instant sophistication. von Helpenstill suggests a bright red top and red pant to create a sophisticated look. Alternatively, Navis suggests mixing neutrals in the same color palette for a powerful, head-turning statement. Get the look: Hofmann Copenhagen Annie Blouse + Hofmann Copenhagen Elisea Pants.
Try a statement shoulder. In addition to 80s-style shoulder pads—a major trend, according to von Helpenstill—rounded, puff-sleeve, and ruffle shoulders, all of which accentuate the shoulder and upper body, are showing up everywhere this season. "This look is best balanced by a slimmer body throughout," shares Navis. The best way to wear this trend, according to the experts? Pay attention to proportion, and try tucking your shoulder-exaggerating blouse into tailored bottoms. Get the look: Hofmann Copenhagen Kristen Short Wrap Dress + Tibi Esme Crepe Shirred High Neck Top.
Say hello to Scandi fashion. The newest fashion invasion hails from the chic European capital of Copenhagen, reports von Helpenstill. Think sleek slip dresses paired with combat boots, voluminous baby doll dresses, and romantic details like oversize ruffles and bows. "It's a fun and whimsical way to update your style," she says. Look for pieces by Ganni and Hofmann Copenhagen for new, unexpected color combinations and fresh plays on proportion. Get the look: Ganni Seersucker Check Maxi Dress + Hofmann Gabriella Shirtdress.
Give logos some love. As is to be expected in fashion, the logo trend that was big in the 80s and late 90s has made its way back around. Not lacking in subtlety, you'll see the recognizable marks primarily brandished as oversized logos on tees, jackets, and sweaters, according to Trent. However, those seeking to embrace the look in a more subdued fashion can take heart, as some brands are opting for micro designs. Get the look: Anine Bing Lili Tee Wild and Free.
Tibi Agathe Sleeveless Jumpsuit 
Incorporate wide-leg pants into your repertoire. Feel free to keep your skinny jeans in storage, since the biggest silhouette of the season, according to Navis, is wide-leg pants. "We're seeing it in both cropped and full length," she shares of the trend. "Denim and pants are getting wider at the hemline, not skinnier." To avoid looking like you're being swallowed by your garments, tuck a fitted top into high-waisted bottoms. Get the look: Veronica Beard Beverly High Rise Skinny Flare Jeans, AMO Bella Released Hem Jeans, + Tibi Agathe Sleeveless Jumpsuit.
Be square. According to von Helpenstill the shoe shape of the season is the square toe, which is showing up from a variety of designers, including Bottega Veneta, Ganni, and Dolce Vita. Easy to wear and comfortable, this trend will be a welcome addition to your closet. Get the look: Tibi Embossed Ostrich Boot.
Add a pop of neon. From accessories to footwear to clothing, this 80s mainstay is coming back as an accent in full force. Trent is embracing neon yellow in lieu of more traditional iterations of the shade, while Navis likes to pair neon pieces with neutral hues and textures for an interesting and unexpected color combination. Get the look: Clare V. Crossbody Strap + VEDA Corazon Crepe Dress.
See spots. Make room next to the stripes, plaid, and leopard in your closet for your favorite childhood pattern, because according to Trent, the print of the moment is polka dot. "We fell for the polka dot trend when creative director Wes Gordon of Carolina Herrera sent oversized polka dot dresses down the runway in the spring 2020 show," she shares. This versatile, spotty option looks great from mini to maxi, black-and-white to neon. Get the look: Tibi All Over Polka Dot Tie Neck Dolman Top.
Get to know the kinder side of "leather." Advances are being made in the field of sustainable fashion, and Navis is especially impressed with one its biggest trends—beautifully crafted, vegan leather. "Our go-to for this is Nanushka; made in Budapest, this vegan leather will fool everyone that it's the real thing." From dresses to shoes and tops, this earth- and user-friendly fabric just might be poised to replace the real deal. Get the look: Nanushka Sha Slingback.
Take to the tropics. Even if you aren't hitting the beach any time soon, you can incorporate the hot house florals and palm prints the tropics are known for into your everyday attire. von Helpenstill loves Brazillian designer PatBo, who is on the forefront of flirtatious floral dresses. She recommends wearing a jubilant print to a wedding shower or outdoor cocktail party—just be prepared for everyone to ask where you got your vacation-worthy glow. Get the look: VEDA Corazon Crepe Dress.
Class up the crop. While not everyone dares to bare, the resurgence of the high waist is a perfect match for another of-the-moment trend: the crop top. Trent suggests pairing the skin-showing shirt with a matching patterned bottom for a sleek look, or sporting a blazer over a crop top for a pulled-together "off-duty" vibe. Get the look: Ganni Cotton Poplin Top + Ganni Printed Crepe Wrap Blouse.
Up your sneaker game. The upscale activewear trend isn't going anywhere anytime soon, and this holds especially true for high-end sneakers, according to Navis. She reports that from distressed versions to platforms, high tops to classic white kicks, there is something for everyone. When it comes to pairings, think beyond the standard jeans-and-sneakers look and try on your chic trainers with dresses, skirts, and even suits. Get the look: Golden Goose.