Login
Log in if you have an account
Dont have an account? Register
One Dress Four Ways : Carmen Styles Natalie
04 May 2019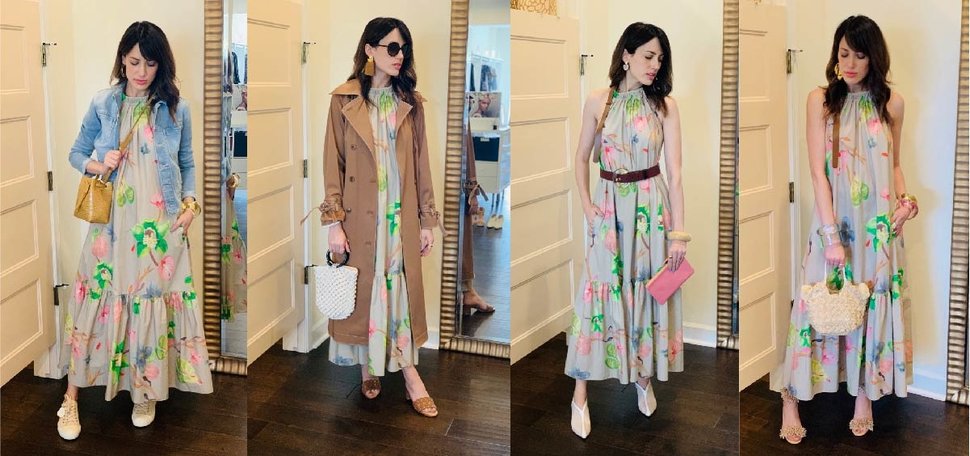 Carmen envisioned me going to four events in May that many of our clients may have this month. She chose one piece that she found could transition effortlessly from the dressiest to most casual events: the Tibi poplin halter neck dress. As the one being styled, I was surprised at how much I fell in love with this dress. Carmen is an incredible stylist, and she sold me on looks I wasn't sure about myself. If this dress doesn't go home with one of our clients, I'll be taking her home with me! 
To start, I applied my "no makeup makeup" face with all Kjaer Weis products:
cream foundation, using concealer brush for touch-ups
cream blush in blossoming
bronzer in lustrous
highlighter in ravishing
pressed powder, with powder brush
eye shadow in earthy calm, with soft brush
eye pencil in brown
lip pencil in rose
lip tint in romance, with lip brush
lip gloss in courage
Next, I recommend applying your fragrance to your skin (NOT to your clothes), before getting dressed. My go-to is Rita's Car, by SRP.
Carmen recommends laying out all your options for footwear, jackets, and accessories so you have a visual of what you're working with and it's convenient to make changes while getting ready.
Footwear options:
Jacket options:
L'Agence denim jacket (in store only)
Lizzie Fortunato is a Fold Girl's best friend when it comes to statement jewelry and belts that can truly transform your look. We also have quite a few small handbags in store now, like the Ulla Johnson Lalo Mini Tote, that are perfect for changing up your look depending on your destination. After all, what's the fun in carrying the same bag all day everyday? We feel like a different bag is important for each outfit.
Carmen is an exceptional stylist, and she was able to create four entirely different looks based off this stunning Tibi dress for Summer 19. After seeing the versatility myself, I'm convinced this dress is perfect for every event this season, from the dressiest to most casual events. It's all in how you style it! Here is where I would wear the following four looks...
LOOK ONE // a night out. This look is my favorite of the bunch, because it's how I feel my best. I'd wear this look for any evening soirée, a date, a fundraiser, or really any night out where I don't have to stand for too long ;) I love the super high heel of this hand-beaded shoe, which is perfect paired with this mini tote. Stacking up these gorgeous cuffs on both arms brings the drama, and I love the vintage feel of these earrings. The dress is so perfect, I love letting it shine on its own without a belt or jacket.
LOOK TWO // attendee at wedding festivities. May and June are full of weddings, and this dress is ideal as an attendee because it's comfortable yet festive. Adding a statement belt to cinch the waist, and pairing with the most comfortable shoes allows for a long day of celebrating and dancing. Adding a simple cuff that doesn't compete with the belt, and a heart-shaped earring that's perfect for the theme of the day finishes the look. This little wallet clutch keeps necessities nearby.
LOOK THREE // first communion, confirmation, bar mitzvah, etc. Speaking of weddings, many religious ceremonies happen in the Spring that require a more conservative look. Carmen paired this stunning trench back to the dress to offer more coverage without taking away from the formality. Paired with these comfortable block heeled mules, a small woven bag, and silk tassel earrings, the dress is more sophisticated, less playful. Sunnies from Krewe (in store only) really elevate the look.
LOOK FOUR // graduation party. This look really shows the versatility of this dress, as you could just as easily wear it running around to the farmer's market or other errands (and yes, you'd be the best-dressed girl there!). These sneakers are comfortable and super affordable, and the jean jacket (in store only) is the perfect cropped length and casual wash. A little bucket bag and hoops + cuff in yellow make the look effortlessly cool.
There you have it! Carmen sold me on this dress, and I hope she sold some of you too! Either way, these four looks should provide you with some styling ideas for the dresses in your wardrobe. 
xo Natalie