Login
Log in if you have an account
Dont have an account? Register
Laws of Layering
16 Mar 2019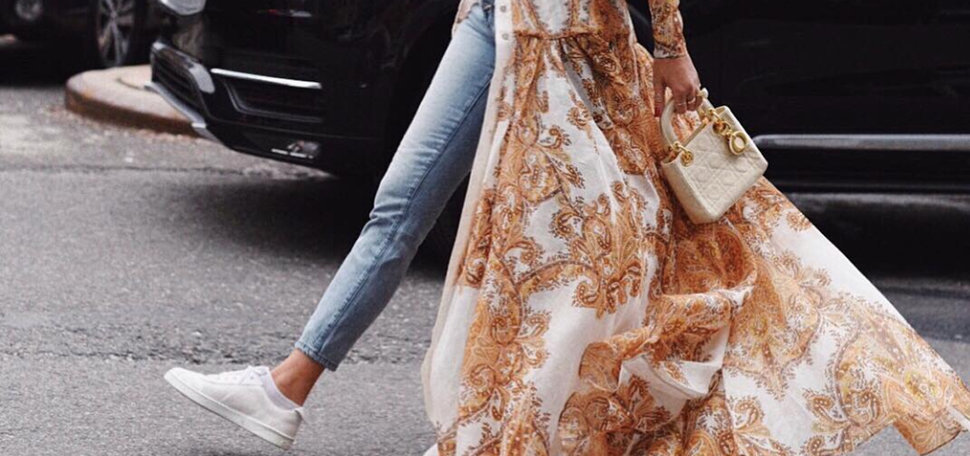 The laws of layering are simple. once you understand them you will be able to mix + match like no other. 
Repetition. When layering jewelry or clothing, use repetition of pattern, shape, or tone to create a complete look.

Iesha Hodges in a dark bordeaux velvet blazer + turtleneck in a lighter tone || @ieshahodgesofficial

Marianne Theodorsen in layered circular necklaces || @marianne_theodorsen

Iris Apfel in layers of gold || @iris.apfel

Marianne Theodorsen in layers of green tones for a money look || @marianne_theodorsen

The queen of repetition in small dots (dress) over large (tights) || @marianne_theodorsen

Marianne Theodorsen in tone on tone + pattern on pattern || @marianne_theodorsen

Marianne Theodorsen in layered hue (red on red) || @marianne_theodorsen
Under/Over. Play with hems and shape - Layer boots into dresses or skirts for a look that is instantly classic. Layer tight tops over blouses with puffy shoulders to get a stunning silhouette. You could also reverse that, and layer your favorite billowy summer blouse over a tight turtleneck. Layer a long sleeve top or sweater under your favorite blazer or coat, and pull the sleeves out long for an arm/wrist detail. 

Margaret Zhang in a gorgeous teal peacoat with cool patterned sleeves peaking out || @margaret__zhang

Jenny Cipoletti in a neutral boot that rises under them hem of pattered dress || @margoandme

Margaret Zhang in a striking cobalt button down under a plaid blazer with sleeves cuffed up for a pop of blue at the wrist (layering a bright color under a muted pattern is always correct) || @margaret__zhang

Tiana Lewis in a clean cream turtleneck with the sleeves perfectly pulled out of her corduroy jacket || @_tianalewis

Danielle Bernstein in the perfect puffy sleeve layer || @weworewhat

Danielle Bernstein reverses under/over with us - here in a lilac blouse over a simple fitted black turtle ||@weworewhat
Play with Colors. Two-tone: Layer solid outerwear over a monochrome outfit. Warm vs. Cool: mix all warm tones (pinks, reds, browns) OR all cool tones (blues, greens, greys). Match tones: Pull one color out of your favorite pattered piece to pair. Jewel tones: they always go together.

Danielle Bernstein in camel over white || @weworewhat

Accidental Icon in warm tones || @accidentalicon

Margaret Zhang matches the perfect yellow-gold from her scarf to her bottoms || @margaret__zhang

Jenny Cipoletti pulls a deep camel small detail from her houndstooth bottoms to inspire her overcoat || @margoandme

Iris Apfel in jewel tones perfectly distributed || @iris.apfel
I want to end with a good one, so my gift to you is my favorite layering piece that you can wear for anything. My best layering tip is to buy a dress that buttons, wraps, or opens all the way down the front. Styling possibilities for this piece are endless. You can open the dress all the way and wear as a duster with jeans + a tank. Or layer with a graphic tee and close the bottom half for a casual look. You can even close the top half of the dress and pair with jeans! 

Danielle Bernstein opens the bottom of her gorgeous Zimmerman dress and pairs it with jeans and sneakers for an unexpected cool-girl twist || @weworewhat

We layered our L'Agence Cameron Shirtdress over a silky halter + jeans || @shopthefold

Vogue Spain layers a graphic tee under a printed wrap dress for the win || @voguespain
And to all of our fold babes out there - try a new layer this week with pieces you already own. Practice makes perfect! (Oh! + tag us if you're comfortable... we'd love to see what you're trying!)
Xx,
Aya