Posted on
By Carmen Smith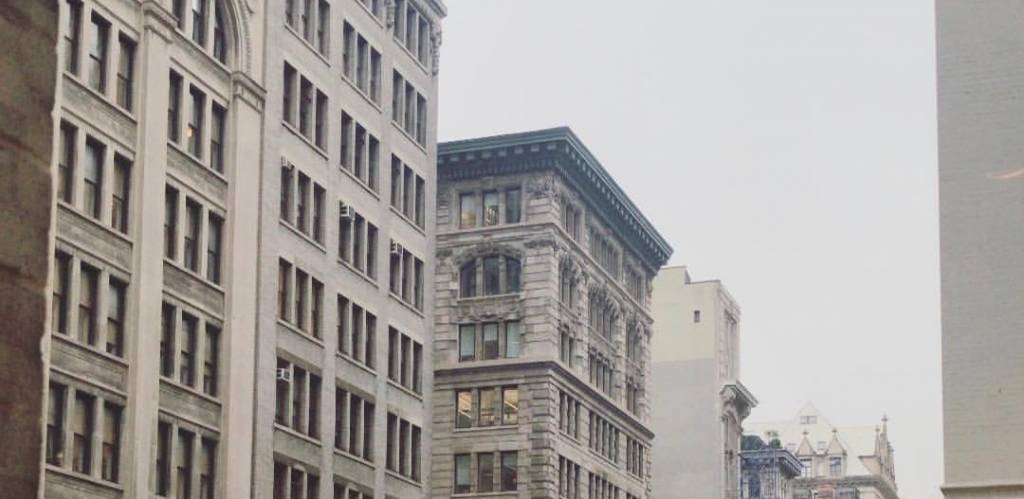 The Fold 2019 Spring market preview + reflection by Carmen Smith.
Spring 2019 Preview: Going on Holiday
Attention #foldgirls! When it's time for your wardrobe to call on SS19, you'll be receiving this automated message:
Spring 2019 fashion will be out of the office starting the month of February through early July. If you need immediate assistance during its absence, please refrain. Enjoy today. Make memories. Live in the moment. And take it easy. Otherwise, Fall 2019 will respond to your emails, calls, and inquiries as soon as possible upon its return. Thank you for your call.
Did you hear that, ladies? We've all been instructed to chill. SS19 is asking us to relax and enjoy ourselves, or rather 'go on holiday' this upcoming season in the ethereal bohemian looks of Ulla Johnson all the way to the refined, modern easiness of Tibi. Each elevated advanced contemporary designer is reminding us to live in the moment of ultimate fashion bliss with breezy relaxed pieces, and sun-bleached pastels.

Photo Credit: Tibi Vogue Runway
Photo Credit: Tibi Vogue Runway
Tibi's Spring runway based its looks around the soft hues of lemon, citron, lilac, cobalt, and blush. Models walked to the cool tunes of Dean Martin and Frankie Valli evoking emotion from behind the memories of the music, forcing the audience to think about where they were when they first heard the song, and of course remembering what they happened to be wearing, as well. Fashion is funny like that. Remembering where you were, whom you were with, and what you wore all add to love and laughter of the moment. This Tibi vibe showcased the comfort of the clothing, yet the luxury of wearing silky fabrics with roomier skirts, trousers, shorts and dresses.

Photo Credit: Tibi Vogue Runway

Photo Credit: Tibi Vogue Runway
Amy Smilovic, Creative Director of Tibi, has a point; she wants women to feel content and restored while they wear Tibi this season. The clothing should translate into the lives of women who are going take that vacation and make more lasting memories with their loved ones.
Which brings us to the point… Something we should all ask ourselves is: What do we wear when we're on vacation and how does the difference in wardrobe and location add to the power behind our way of thinking?
Ulla Johnson seems to master this notion of 'out of the office' looks every season with her airy, sublime craftsmanship, and globally-inspired flare. This Spring you'll see the same color palette as Tibi's translated into deeper hues of nude, marigold, and navy color blocked and stitched with the most intricate embroidery on a more sustainable fabric reminiscent of Johnson's own pilgrimage to India.  

Photo Credit: Ulla Johnson Vogue Runway

Photo Credit: Ulla Johnson Vogue Runway

Photo Credit: Ulla Johnson Vogue Runway
The fashion designers' goal this season is to dress you for the part of lush leisure and in return, they want you to put that positive pause, content and joyful energy back into the world.
A.L.C. illustrates this best with their freeing feminine fabrics addressing the concept that fashion does not need to be fussy. This season A.L.C. chose similar shades that are welcoming with a more vivid watercolor brilliance. The same question remains: how do you feel when you look at the fabric? Does it calm you? Does it make you yearn for the uncomplicated life?
Photo Credit: ALC Vogue Runway
Veronica Beard also produced a Spring line-up initiating a different interpretation of the feeling of a work recess. Their 'urban jungle' theme rich in metallic sequins, belted blazers, leopard and island prints touched on the idea of creating your own oasis by dressing like a stylish girl on holiday in the city.

Photo Credit: Veronica Beard Vogue Runway
Photo Credit: Veronica Beard Vogue Runway
No matter what elevated advanced contemporary designer you choose, all SS19 looks are teaching us that if we are all a little more patient, relaxed, and in love with our lives, imagine what a fashionable force of energy that will bring to this world? Let's all dress the part and do the WORK of living our lives in a more peaceful, mindful way and start to think more 'out of the office.'
We are looking forward to the ease of Spring, but right now we are living comfortably in Fall. After market, we respectfully feel like we need a vacation, as we've been fashionably instructed to do. But, we're going to wait until the chill of winter sets in and enjoy the beauty and mysteriousness of October in the Midwest. Stop in to shop our array and thoughtfully curated collections of warm, cozy sweaters, mixtures of plaids, lace, light-weight woven silks, leathers, feminine intimates and loungewear, clean cosmetics, on-trend shoes, gorgeous accessories, and uptown and downtown outerwear all exclusive to The Fold.
See you soon!
With love + gratitude,
#thefoldgirls